My good mate Liam just sent me some pics of these crazily modified vehicles. Too good! Simply had to share them. I love all the cars in the Mad Max movies, especially how they're all dented up and filthy. But, to my recollection, none of them were kitted out as half-tracks with anti-aircraft guns protruding from the cabin. This is all kinds of awesome.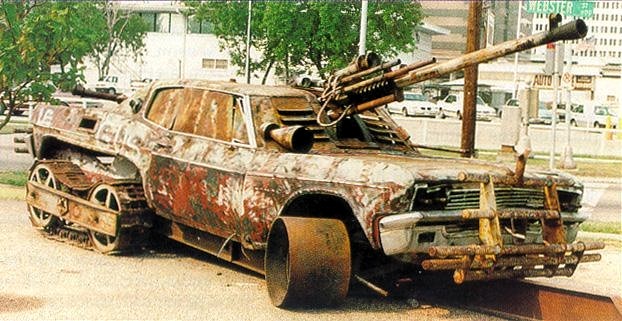 (from
http://surbrook.devermore.net/original/vehicles/postapoccar.html
)
And this is a reasonably good facsimile of the semi-trailer from Mad Max 2, if it was fueled with a mixture of diesel, steroids and crystal meth. Or this is quite possibly the love child of Optimus Prime.
(from
http://gizmodo.com/266179/the-dragon-tank-truck
)
If anyone knows of anything along these lines, I'd love to see it. Saints alive, how I dig this stuff!